The state of Hawaii is an island located in the Pacific Ocean. It's well known for its beautiful beaches, some of them multicolored!
Hawaii is perfect for hiking, biking, sailing, swimming, and just about any fun you want to have on a vacation. Now, let us explore some of Hawaii's delectable cuisine!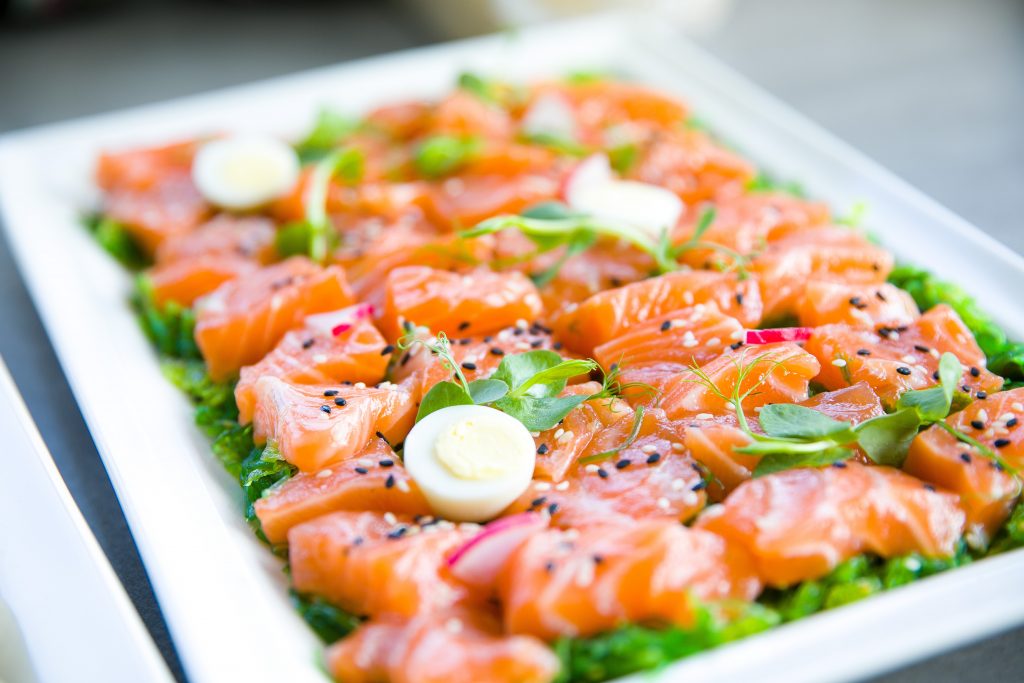 This popular Hawaiian dish is named after the Hawaiian words for "rub," "knead," or "massage."
Salt is rubbed into the salmon, and then then the onions and tomatoes are kneaded in with it. Soaking the diced white onions tempers down its flavor and softens its sharp taste.
Tuna Poke is a sushi-like dish in which raw tuna is marinated in soy sauce, sesame oil, and ginger and served on cucumber slices as finger food. The poke isn't "cooked" in citrus juices as in seviche, so be sure to use sushi-grade tuna.
Poi is a Hawaiian dish made from taro roots, a starchy tuber that early Hawaiians brought from Polynesia.
It is considered a traditional Hawaiian dish because it was eaten before Hawaii's cuisine was influenced by the Western world.
To prepare poi, taro is boiled and peeled, then pounded to a paste, often white or pink, which later turns purple when cooked.
Saimin is Hawaii's version of a Chinese egg-noodle soup developed when the island still had plantations.
Over the years, the recipe has started to change, with additions in the ingredients, such as green onions, Portuguese sausage, kimchi, and kamaboko.
It has become so known that you can buy it in the stands at sporting events and even in McDonald's outlets across Hawaii.
If you want to enjoy saimins, you need to find a favorite family restaurant; the kind that has been in the community for a long time, like Hamura Saimin Stand on Kauai or Star Noodle on Maui.
If you would love to taste the Hawaiians' delicious cuisine, let Elizabeth Holmes Travel help you plan a memorable trip!
Elizabeth Holmes Travel is a professional and full-service travel agency in Seattle that provides excellent traveling services to our clients no matter their destination.
Visit us at 5700 Sixth Avenue South, Suite 100 Seattle, WA 98108, or contact us at 206-547-8361 or 800-588-8361 or send us fax here: 206-547-8362. We'll be delighted to help you.
Here are other destinations you might like: