Joy's Adventure – February 2015
The Last Great Race
Nome Alaska is not your typical tourist destination, but mid-March of this year I found myself giddy with excitement as I boarded a flight headed there for a mini "vacation". Located in Western Alaska on the edge of the Bering Sea, Nome is a small community of locals Native Americans, adventure seekers, and gold rush fanatics. It would take a certain type of person to live in Nome – and the town is not short on colorful characters.
On this particular week in March, this quirky little town is all abuzz with excitement for the highly anticipated event of the year – The Iditarod sled dog race! In case you aren't familiar with the Iditarod, it is a rich Alaskan tradition of one dog musher racing a team of sled dogs from Anchorage to Nome – over 1000 miles of rugged and remote terrain. It is a tribute to Alaska's history and the role that the sled dog has played over the years.
During my first day in Nome I walked around town – kids whizzed by me on their "snow-machines" (Alaskan for snowmobile) as I stomped down the frozen snow covered sidewalks. I was lucky and the temps were only in the low teens this week. It could have been well below zero! I stopped by the local arts and craft fair where vendors were selling their wares of muskox gloves, whale bone jewelry, and fur trimmed moccasins. I swung into the Iditarod Headquarters building for an update on the race. There are many checkpoints along the Iditarod trail and we were closely following the top mushers who seemed to be neck in neck the past few days.
I cannot even imagine what it would be like to be one of the dog mushers on the Iditarod trail. They spend days on end all alone with nothing but miles of snow and their dog team. Rough weather conditions and treacherous landscapes cause many mushers to bow out of the race before they even make it to the end.
That night we feasted on Bering Sea King Crab legs. I found it fascinating to see the ocean frozen in Nome. To collect the crab they have to drill through the ice! Local festivities in Nome get a little rowdy at night during Iditarod week. We spent a few hours out on the town – mostly people watching – then stopped back by Headquarters for another update before bed. Looks like our 1st place musher had left the last checkpoint before Nome and was expected to cross the finish line around 4 am. That left us about 3 hours to sleep before the excitement really got started.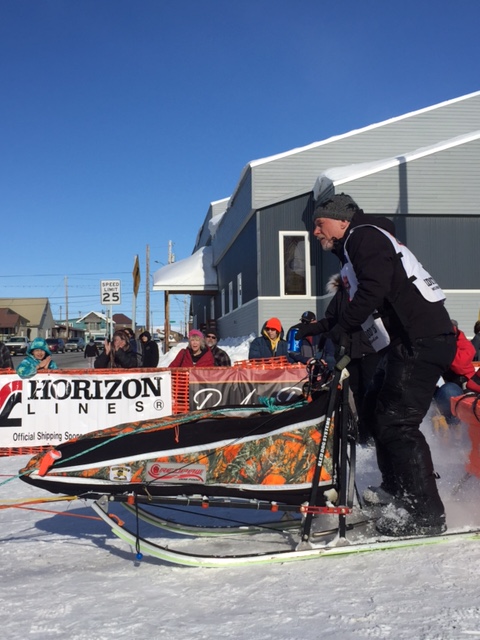 3:45 am and the town siren goes off waking us from our not so deep sleep. The siren gives us about a 20 minute warning so we didn't waste any time getting to the finish line! We layer up, throw on our down jackets and boots and head down to Main Street. You would never know it was 4 AM with all the people out and about!
Just after 4:00 in the morning, Dallas Seavey crosses the finish line with his team of dogs. This is Dallas's 3rd time winning the Iditarod. He lovingly scoops up his 2 lead dogs and places flower wreaths around their necks and hugs them close as he is interviewed by the press. More clapping and cheering and then we head back to crash for the rest of the night.
This year, I got to watch the top 5 mushers cross the finish line. Their faces and bodies all worn and sleep deprived, but you could see the satisfaction in their face that they had achieved their goal. It was an experience I will never forget – and a tradition I have a new found appreciation for. It truly is "The Last Great Race".
Here are other destinations you might like: