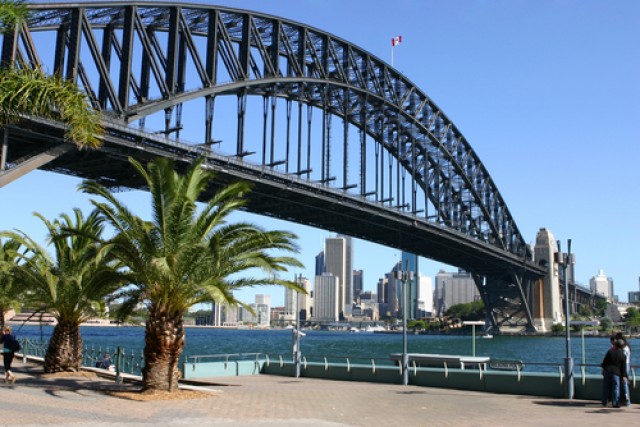 Australia > New South Wales > Sydney > Northern Territory > Ayers Rock/Uluru > Queensland > Cairns 
See three of Australia's iconic tourism stops when you discover Sydney, Uluru and Cairns on this ten night getaway.
There are plenty of ways to discover Sydney – and with four nights in Sydney you have the time to use all methods. Hop aboard a ferry, pound the pavement and the alleys of the historic Rocks District, peddle a bike through the parklands and foreshore of the harbor or cruise at your own pace in a kayak. Sydney is traveler's paradise – easy to explore and jam packed with art galleries, boutiques, cafes, weekend markets, multicultural food, clean beaches and iconic architecture.
Australia's spectacular Red Centre is next, home to the mysterious Kata Tjuta (The Olgas) and Uluru (Ayers Rock). Full of Aboriginal history and Dreamtime stories, the Red Center will be a highlight of your journey. Take the opportunity to walk the base of Uluru with an Anangu guide and hear these Dreamtime stories firsthand. Learn how this area was created and take in the history of the world's oldest living culture. Take in the views of Uluru at sunrise and sunset, from the back of a motorbike or the back of a camel, or maybe take to the skies for a once in a lifetime scenic helicopter flight. However you see this part of Australia, the memories will stay with you forever. Be sure to catch the star gazing experience we have included in your vacation package, a wonderful opportunity to learn about the southern sky.
Cairns in Tropical North Queensland will be your home for the next four nights. This stylish city is the jumping off point for the World Heritage-listed Great Barrier Reef and Daintree Rainforest with an energetic waterfront full of restaurants, shops and bars. Take to the water and discover the Great Barrier Reef, pull on your hiking shoes and explore the Daintree Rainforest, grab a paddle and take to the rivers in a whitewater raft and be sure to hop aboard the Kuranda Scenic Railway for a spectacular rail journey that winds through this beautiful part of the world.
Highlights
Sydney
Uluru (Ayers Rock)
Cairns
Additional Details
Round-trip airfare on Virgin Australia from Los Angeles to Sydney, Uluru (Ayers Rock) & Cairns
Four nights Sydney, choice of hotel grade
Two nights Ayers Rock, choice of hotel grade
Four nights Cairns, choice of hotel grade
US/foreign taxes & fees including Sept 11 Security Fee
Add on your preferred Field of Light experience
| Price per person from* | Standard | First Class | Deluxe |
| --- | --- | --- | --- |
|  Double Occupancy | 2699 | 2839 | 3259 |
| Price per person from* | Standard | First Class | Deluxe |
| --- | --- | --- | --- |
|  Double Occupancy | 2859 | 3149 | 3599 |
| Price per person from* | Standard | First Class | Deluxe |
| --- | --- | --- | --- |
|  Double Occupancy | 2759 | 3149 | 3589 |
| Price per person from* | Standard | First Class | Deluxe |
| --- | --- | --- | --- |
|  Double Occupancy | 2739 | 3099 | 3549 |
| Price per person from* | Standard | First Class | Deluxe |
| --- | --- | --- | --- |
|  Double Occupancy | 3849 | 4299 | 4739 |
| Price per person from* | Standard | First Class | Deluxe |
| --- | --- | --- | --- |
|  Double Occupancy | 2739 | 3099 | 3529 |
** Blackouts apply in Sydney December 29, 2016 – January 2, 2017
For airline baggage and optional fees please click here
Round-trip gateway addons start from:

| | |
| --- | --- |
|   $190 | Phoenix (AZ), Las Vegas (NV), San Diego (CA), San Francisco (CA) |
|   $250 | Dallas (TX), Seattle (WA) |
|   $285 | Portland (OR) |
|   $310 | New York (NY) |
|   $330 | Austin (TX), Chicago (IL),  Cleveland (OH), Denver (CO), Houston (TX) Indianapolis (IN), Milwaukee (WI), Minneapolis (MN), Salt Lake City (UT), St Louis (MO) |
|   $405 | Nashville (TN), Boston (MA), Buffalo (NY), Charlotte (NC), Detroit (MI), Jacksonville (FL), Memphis (TN), Miami (FL), Orlando (FL), Philadelphia (PA), Pittsburgh (PA), Raleigh Durham (NC) |
|   $485 | Atlanta (GA), Baltimore (MD), Washington (DC) |
Group Size
Independent
Dates
July 24 – September 17, 2016
Price
From $2699 per person based on double occupancy*
Trip Terms
*Prices are quoted in USD and are 'from', per person, based on double occupancy. Single supplements apply. Advertised price valid for departures July 24 – September 17, 2016. Other date ranges available, however seasonal surcharges apply. Black-out dates may apply. Airlines frequently change their prices as a result of fare increases and/or fuel surcharges. Prices are current at time of posting (7/1/2016) and may differ when you book your travel and are not guaranteed until full payment is received and processed. Seats and hotel rooms are subject to availability at time of booking. Packages must be booked by August 31, 2016. All prices, itineraries and routing are subject to change without notice. Transportation to the Great Barrier Reef is not included from Cairns. Please call for our current prices. Visas are required for travel to Australia. CA CST: 2076233-40 | WA ID: 601 684 531
Terms and Conditions
Read our full Terms and Conditions here